July 21st, 2008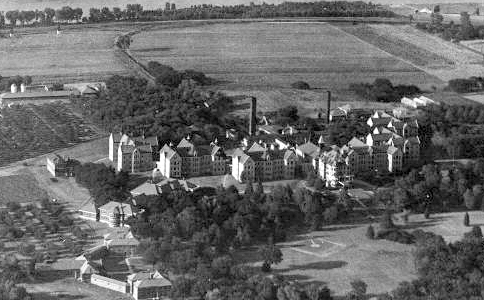 I got an email last week informing me that my list of Kirkbrides was incomplete because the asylum in Osawatomie, Kansas wasn't included. While I'm still not 100% sure there was a Kirkbride there, I trust this person's opinion and went looking (again) for whatever evidence I could find.
During my search I did find something promising related to the Osawatomie asylum, but the thing I found really exciting was something else entirely that I stumbled upon by happy accident. I'm sure only the most geeky of asylum architecture enthusiasts will find this interesting, so if you're not one of those, please disregard this post. If you are an asylum architecture nerd, then read on…
What I found was a proposed floor plan and elevation for the state insane asylum at Topeka, Kansas. Amazingly, the floor plan is almost a carbon copy of the Buffalo State Hospital plan. While the elevation doesn't look too much like Richardson's masterpiece, and there are some significant differences between the plans (like Topeka's much more extensive admin), there are several key similarities.
Features the designs share include "double-loaded" rear corridors perpendicular to the main "single-loaded" corridors, terminating wing sections placed at 90 degree angles to the building's main axis, and the breaking up of the wings into pavilions connected by curved hallways (note though at Topeka those connecting hallways had only one story, while Buffalo has mostly two story connectors). The original plan for Topeka also included pavilions of progressively diminishing height. And although the Topeka design was one pavilion shorter than the Buffalo Kirkbride, the pattern of diminishing stories followed an almost identical pattern as Buffalo's (Topeka: 3.5, 2.5, 2.5, 1.5 – Buffalo: 3.5, 3.5, 2.5, 2.5, 1.5).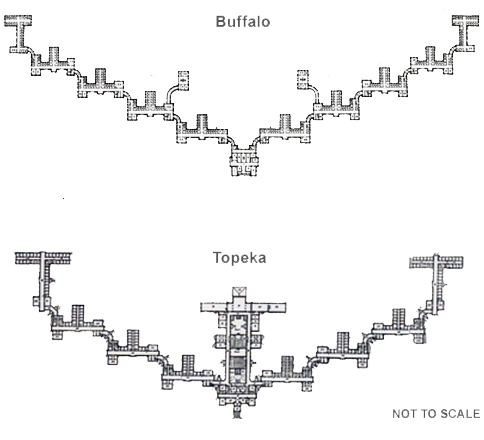 The Topeka Kirkbride wasn't built exactly according to this plan however. Early photos of the building prove this. The wings weren't symmetrical, the wards were all the same height, and two pavilions to the right of the admin were perpendicular to the building's main axis, rather than just one. The administration section is also quite different than the original design. Why that happened I don't know yet, and your guess is as good as mine. Maybe it was due to insufficient funds, time, changing tastes, or maybe parts of the building were reconstructed at some point.
One thing is almost certain though: the Topeka architects, Haskell & Wood, most likely borrowed their floor plan from H. H. Richardson and superintendent Dr. John Gray's Buffalo design and not vice versa.
BTW: I found the plan of Topeka at this site and again at Kansas Memory. Take a look at the larger version of it complete with elevation (showing the originally proposed admin). There are photographs of the hospital available as well.
1) View of the admin
2) Aerial view
3) Another aerial view
4) Chapel interior
5) Some hospital employees
6) Kitchen workers
7) Patients
In case you're wondering, that promising something I found regarding Osawatomie was the elevation and plan underneath that of Topeka here. It looks like a Kirkbride, although a bit variant. I'm still looking for a photo that shows a good portion of the building. I know there's one at Historic Asylums, but it's a little too low-res for my liking.