December 6th, 2015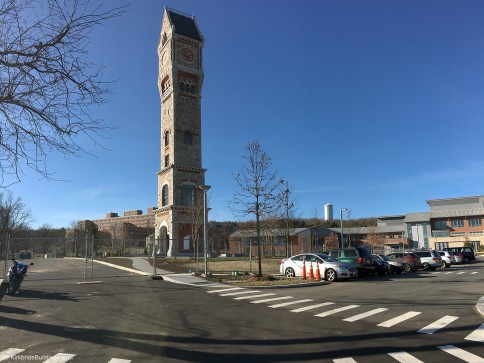 I swung by Worcester State Hospital this weekend as I was in the area and I had read the clock tower replica had finally been completed. You can read more about that here: Rebuilt clock tower welcomed on hospital campus in Worcester. Note that there'll be a ribbon cutting ceremony at 10AM on Thursday, December 10, 2015.
There's still a chainlink fence around the tower right now so you can't get very close. I took a few pictures from a distance with my phone. You can't make it out in the pictures unfortunately, but it looks like there's a spiral staircase in the center of the structure. There are metal gates protecting the entrances at the base of the tower though. I'm guessing those will remain closed and locked. It'd be nice if the public could climb to the top at will, but that's probably asking too much, especially as the tower is on the grounds of a psychiatric hospital.
Overall I think it looks good. It's obviously not exactly like the old tower, and it's not an adequate replacement for the Kirkbride, or even the just admin. It's a fairly accurate replica of the tower though and (a little bit) better than nothing. Even though it's somewhat disappointing and odd, I'll probably visit it from time to time for a reminder of what used to be.