May 6th, 2008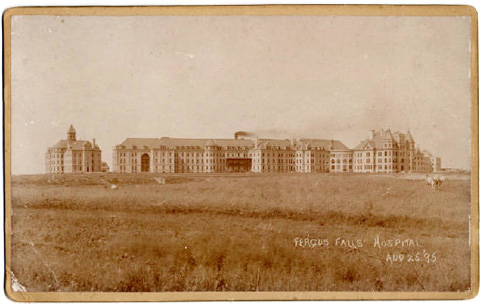 Things have been a little slow in the Kirkbride newsroom lately. Aside from last week's excitement over the Trans-Allegheny Lunatic Asylum, there haven't been many new developments in the world of Kirkbrides—just some rehashing of the same old news.
So here's a post about more old Kirkbride photos on the web that people might not be aware of. In a previous post on the same topic, I mentioned that I couldn't find some photos of Worcester State Hospital which I had come across earlier in the American Memory Collection. I found them again fortunately. As stated before though, the quality isn't so hot. Maybe the originals are good (it might be worth getting copies), but the electronic versions available on the web site aren't. That said, here are the links.
1) Bloomingdale Hospital, Worcester, MA
2) Lake Quinsigamond, Worcester, MA (You can just make out the Kirkbride in the distance)
Moving on to other buildings and better photos, here are some nice shots of the Fergus Falls State Hospital Kirkbride under construction.
1) Third State Hospital of Minnesota under Construction
2) Third State Hospital of Minnesota under Construction
3) Third State Hospital of Minnesota under Construction
And here's an interior photo from the Fergus Falls kitchen.
1) Fergus Falls State Hospital Kitchen Crew
Staying in Minnesota for the time being, there is a surprising wealth of photos of Saint Peter State Hospital online, although many are pretty much the same shot. Here are some examples with as few "repeats" as possible.
1) State Insane Asylum, St. Peter
2) The St. Peter State Hospital
3) View of the State Hospital in Saint Peter
4) Main Buildings at the St. Peter State Hospital
5) Administration and South Wing
6) Main Buildings
7) Minnesota River and the State Hospital
8) Saint Peter State Hospital Kirkbride
9) Rear View of Saint Peter State Hospital
10) After the Fire at Saint Peter State Hospital
11) Drawing of the Saint Peter Kirkbride
In addition, there are three whole albums of photos from Saint Peter State Hospital available at the links below.
1) Saint Peter Album One
2) Saint Peter Album Two
3) Saint Peter Album Three
And to complete the virtual tour of Minnesota's Kirkbride buildings, here are some photos from Rochester State Hospital.
1) Rochester State Hospital Operating Room
2) Rochester State Hospital Grounds
3) Rochester State Hospital Electric Station
4) Rochester State Hospital Kirkbride
That's it for now. I'll post more links to photos of other Kirkbrides later this week.