February 28th, 2008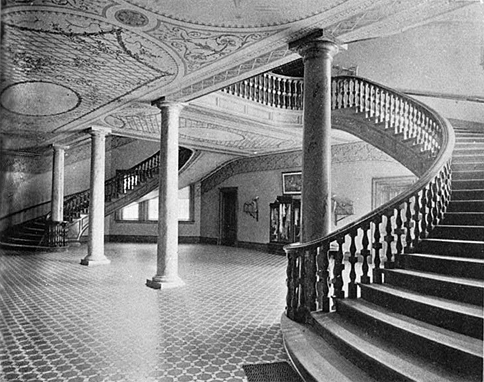 A while ago I came across some photos of Taunton State Hospital on the Library of Congress' American Memory web site. They're part of a collection of photos put together by the Historic American Buildings Survey (HABS) to document achievements in architecture, engineering, and design in the United States. Of course I immediately searched for images of other asylums, but didn't find much of interest in terms of Kirkbrides (except for these photos of Buffalo State Hospital). A few days ago I had a few hours to kill and discovered that there were actually lots of photos of other Kirkbride buildings in the collection. Here's what I found:
Cherokee State Hospital
5 photos & 2 drawings
Clarinda State Hospital
5 photos & 3 drawings
Independence State Hospital
2 photos & 2 drawings
Kalamazoo State Hospital
6 photos – I've seen these before on somebody else's web site, but didn't realize they were from this collection.
Mount Pleasant State Hospital
4 photos & 2 drawings – I've personally never come across an image of Mount Pleasant that proves it was a Kirkbride, but these definitely do that. And this shot of the "Rotunda and Stairway" is pretty drool worthy. It looks like there's another photo above it of a vestibule. I don't know why that wasn't included. Makes you wonder how many more images there are in this collection…
That's it for HABS, but there are more images from other sources. Here are a few highlights:
Buffalo State Hospital
An old image I've used elsewhere…
Columbus State Hospital
A panoramic shot that was used on a postcard
Kankakee State Hospital
Entrance to the asylum & Main building
Saint Elizabeths
2 maps
There are a few other photos of Kirkbride buildings, but I'm not going to include them all. It's too hard to find some of them again for some reason. Don't worry though, you're not missing much. For instance, there are a couple photos showing Worcester State Hospital in the distance, but the quality is so poor they really aren't worth looking at.

I did manage to download one of the more interesting ones when I first found it (see left). It's the front cover to sheet music for the "Kalamazoo Polka Brillante" which was inscribed to the composer's friend: Dr. E. H. Van Deusen, superintendent of the Kalamazoo asylum. You can click on the picture at left for a larger view of the cover which has a drawing of one of the Kalamazoo Kirkbrides on it.
I can't help but wonder what the polka sounds like. Too bad they didn't include the notation with the cover…
What's a real bonus about these images is that high-res versions are usually provided for download. Look below or above the images for the high-res link. Be careful though, the rights to some of these may prohibit using them online without permission. Make sure to check out the copyright info before using them anywhere. (I'm sure at least a few of you are thinking about it:)