March 10th, 2009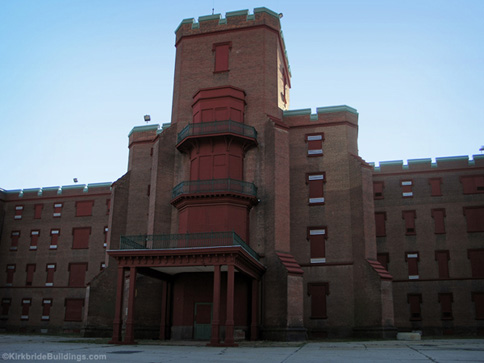 I finally got around to adding a page for the Kirkbride building in Washington, DC: Saint Elizabeths Hospital. I was fortunate enough to get on the DC Preservation League's tour of the West Campus this past December. Unfortunately, the sun was low on the horizon and behind the building. So the exterior pictures of the Kirkbride's facade are a bit dark and flat. Oh well. The League may be putting together tours of the campus again this Spring. If I'm lucky I'll get another chance to take pictures when there's more light on the front of the building, and more greenery around too.
Even though the Saint Elizabeths Kirkbride isn't on my list of favorites (I'd even go as far as saying it's on the ugly side), the hospital campus itself is really beautiful. The view of Washington, DC alone is fantastic. But the variety of trees which fill out the grounds are also attractive and cast some amazing shadows. Then there's the sense of history you feel when walking around all those old historic buildings on the outskirts of the nation's capital.
If tours are given again this Spring, I really recommend signing up. There may not be many more chances to see this Kirkbride after the Department of Homeland Security starts transforming the West Campus into its new headquarters. Most likely, you won't get to see the inside of the Kirkbride on the tour, but walking around the campus is interesting enough and won't cost you anything either. If I hear anything about the tours, I'll mention it here. So stay tuned.