August 19th, 2008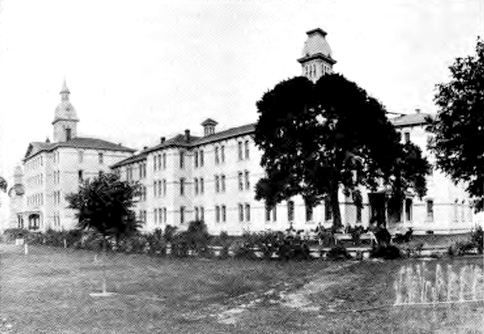 As a result of the site's 15 minutes of fame a couple weeks ago, I got a few emails about Oregon State Hospital. Each made a case for including the Oregon State Hospital "J Building" (soon to be "The Kirkbride U") in my list of Kirkbrides. They were pretty convincing I have to say. Apparently the building was originally designed according to Kirkbride's specifications, but when it came time to add on additional wards, real estate issues prevented the wings from being extended in the normal fashion. Instead, they were extended back at a right angle to the original building's main axis.
After hearing the evidence from multiple sources, I've decided to finally consider the building a Kirkbride. I'm a little worried that adding it to the list will open the door to other variants and ugly cousins of the Kirkbride plan, but we'll see. (Just to be clear, I don't mean to say that OSH is ugly:) I also got a bunch of messages about other possible Kirkbride buildings not included in the list. Some people were obviously just mistaken, but a couple submitted promising candidates. I'll keep you posted if anything interesting turns up.
What reminded me about Oregon State Hospital in particular was a couple items I recently stumbled across on the web. One of these is Oregon State Hospital during the 1960s by C.L. Brown, a former patient. The complete piece contains her memories of the hospital and a couple interviews she did with her former psychiatrist. It's a pretty interesting read.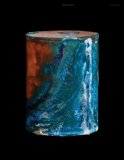 In addition to that, there's also the fascinating and more unusual story of the "Library of Dust". From the 1880s to the 1970s, the unclaimed, cremated remains of patients who died at Oregon State Hospital were placed in individual copper canisters and then stored in the basement. Over the decades, chemical reactions caused by moisture resulted in brilliant colors streaking across the canisters and "blooms" of corrosion erupting from their sides. It's kind of nice to know that even though the cannisters were originally almost identical, each one has become an individual because of its unique reaction to the elements. Photographer David Maisel has documented this collection of "cremains" in a collection of photographs titled "Library of Dust". You can see some of the photos and learn a bit more about the remains on Maisel's web site, or you can purchase his book which will be released this month: Library of Dust
.