November 28th, 2008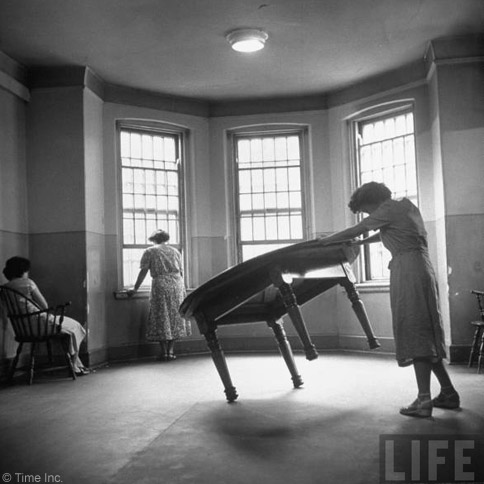 Note: Sadly, the photos linked to in this blog post are no longer online.
Google and LIFE Magazine recently arranged a deal whereby LIFE's vast photo archive will be placed online. You can find a portal to the collection here. What I really want to draw your attention to though is a handful of images taken by photographer Herbert Gehr at a mental hospital in Worchester [sic], Massachusetts in 1949. One of these photos (reproduced above) leaves no doubt that they were indeed taken at Worcester State Hospital. Anyone that's been inside the Worcester Kirkbride will recognize the space in which three women create this somewhat surreal scene.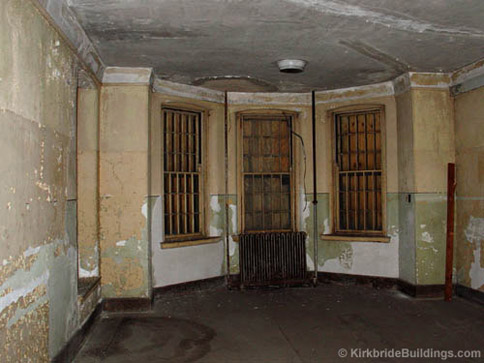 I don't think all the photos in this collection were taken inside the Kirkbride, but I believe most of them were. They're really a pretty fascinating group of images too—some are slightly bizarre, some are disturbing, and others are hauntingly beautiful. It's weird to see that the basement almost looked creepier in use than it did after it was abandoned. Below are links to all the pictures. (Note that you can view a larger version of each image by clicking the "View full size" link on the image page.)
1) Patients Square Dancing
2) Doctors & Researchers
3) Patient Lifting a Table
4) Electric Shock Treatment
5) Patient on Scales
6) Insulin Shock Therapy I
7) Insulin Shock Therapy II
8) Insulin Shock Therapy III
9) Insulin Shock Therapy IV
9) Patient Receiving Treatment
10) Sweat Study
11) Hormone Treatment
12) Spinning Treatment
13) Research Equipment
14) Breaking Down Sugars
15) Woman Alone in a Room
There will probably be images from other Kirkbride hospitals in the future as more of LIFE's collection is made available. I'll keep you posted if I come across any. In the meantime, if you want to see pictures from non-Kirkbride psych hospitals, try a search using terms like "mental hospital" or "state hospital" at the portal. There are lots of old pictures from other institutions. If you're really impressed with any of them, you can even purchase a framed print too. I have to say though that I don't quite agree with selling photos clearly revealing a patient's face (like this one for example). It seems a bit dehumanizing.