March 24th, 2008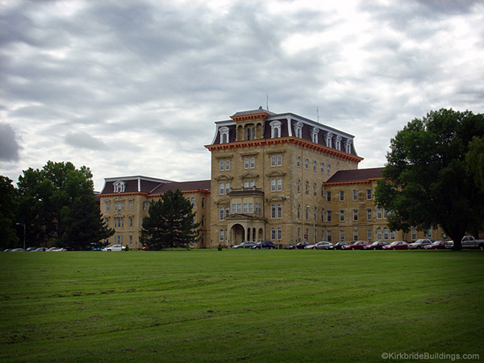 I've added an Independence State Hospital page where you can see my photos of the Kirkbride and learn a little about its history. The photos are from a visit to Iowa I took back in 2004. As I mentioned in the Clarinda post, the quality of the pictures leaves something to be desired. I think these are even a full step down from the Clarinda photos. (The ones from Cherokee are even worse. I don't even want to post those, but I probably will just to be as complete as possible. Watch for them in the future…)
Independence is a nice looking Kirkbride. It's facade isn't as dramatic as some, but it's still a pretty impressive sight, set back from the main road, sitting at the end of a long stretch of open lawn. Its relative simplicity in design would probably have pleased Dr. Kirkbride.
It was a rainy day when I was there which kind of put a damper on things. It was a very pleasant visit in spite of the clouds and rain though. Independence is still a functioning mental health facility, but like most state pysch centers these days, it's nowhere near as crowded as it used to be.
One thing I've heard about Independence which I haven't been able to verify is that the main building started life as a mansion which was converted into a Kirkbride building. I have a hard time believing that's true since Kirkbrides were almost exclusively purpose built from the foundation up. I don't know of any that were adapted from existing buildings. If that's true about Independence, it would be an interesting little side note. I still need to find some verifying documents though.
Another interesting fact is the Kirkbride was designed by architect Steven Vaughn Shipman. Shipman apparently designed at least five Kirkbride buildings. The five I know about were in Anna, Illinois; Elgin, Illinois; Independence, Iowa; Mendota, Wisconsin; and Oshkosh, Wisonsin. That's pretty prolific. Unfortunately, I believe that Independence is the only one that survives.