May 19th, 2008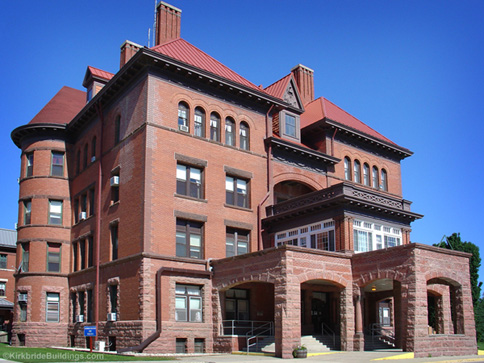 I've added a page for Cherokee State Hospital. The photos date from the same trip in 2004 when I visited Clarinda and Independence. Like the other two Kirkbrides, the building at Cherokee is in great shape and the grounds are well kept, giving a good sense of what Kirkbride hospitals must have looked like back in the early days. Cherokee was a little different though in that much more of the Kirkbride is still fully used, not to mention the fact that one wing is now occupied by a prison. A tall fence topped with razor wire surrounds the prison wing, and really detracts from the building's otherwise pleasant appearance.
Cherokee was built in the late 1890s and didn't open till 1902. It does have a more modern, less quaint feel too. I suppose the fact that a metal roof was put on a few years ago contributes to that, but I think even if the roof were still slate and you could somehow remove all the other updates large and small, you'd still have something more modern than say the Kirkbrides in Taunton, Weston, or even Danvers.
Just like Clarinda and Independence, my wife and I saw the interior of Cherokee with an employee guide. But whereas the tours at the other buildings were very casual affairs conducive to a little poking around, this one was pretty much a no-nonsense, high speed dash through a few key areas and then "Have a nice day!" There was a big conference going on at the hospital, and the person showing us around was obviously in a rush. This was definitely the shortest visit of the trip.
Consequently, I'm lacking in good interior photos for Cherokee. What's there is pretty meager, but at least it's something. (There are a few Kirkbrides I only have exteriors of, and even one I only have interiors of oddly enough). To make up for that I'm posting a few historical photographs of the inside here. These were taken from a pamphlet entitled "Cherokee Mental health – 100 Years of Serving Iowans" which was put together by the CMHI Centennial Committee in 2001.
A room in the superintendent's quarters.

The original amusement hall which was damaged by fire early in the building's history.

The amusement hall after renovation, during a Halloween celebration.


The hallway of a ward.


And another ward hallway.