March 31st, 2008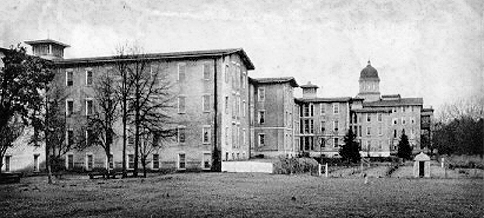 Bryce Hospital has been in the news a bit this March. As mentioned in a previous post, the Bryce campus is likely to be sold to the University of Alabama. If the sale comes to pass, the hospital will move to another location, and the Kirkbride building will become the school's property. One reader pointed out to me that the university president, Robert Witt, says the historic building will be left standing.
"UA does not have a plan for developing the Bryce property if it were to become part of the university, but Witt said any buildings on the National Historical Registry would be preserved." (Tuscaloosa News, UA Hires Consultant to Work on Bryce Project)
More recently, the Tuscaloosa News reported that the Alabama mental health department is in the midst of a study on state-wide psychiatric services, and that any sale of Bryce will have to wait until the study is completed. Pragmatically, the state wants to think about how a sale and uprooting of Bryce might fit into other plans they come up with for their mental health services. That seems to be putting the brakes on the purchase, and it will probably be a few months at least before we hear anything definite. See Where Will Bryce Patients Go?
The Tuscaloosa News web site also has a photo gallery of the Bryce campus. You can view it here: Bryce Campus. There are a few photos of the Kirkbride, plus other buildings and the patient cemetery. Most of the non-Kirkbride photos are pretty blah, so I'll give you some direct links to the good stuff.
It's nice to see some real gravestones at the cemetery there. I've never visited, but judging by the photos it looks like at least some patients were given something more than a concrete block with a number on it. That's a real contrast with what you see at most other state hospitals. Of course, they might have those at Bryce too and the photos just don't show them.