October 17th, 2008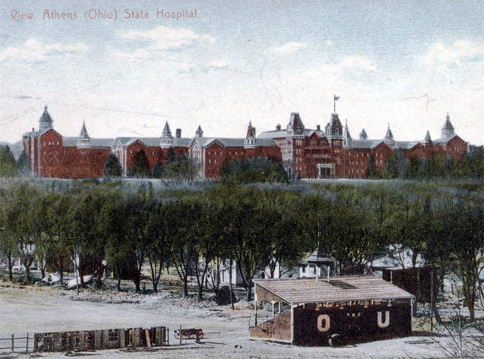 I came across some nice documentation of Athens State Hospital which was made available online by Ohio University's library. Most impressive is Katherine Ziff's lengthy dissertation Asylum & Community, and this collection of old images. I was especially pleased to see the alligator in the fountain. Till now I STILL didn't quite believe that an alligator really lived there, even though several sources said so. The story just screamed urban legend to me.
But now I know the truth and I can finally sleep through the night—no more waking up at 2AM wondering "Did an alligator REALLY live in the fountain at Athens? It CAN'T be true…Can it?"
A somewhat related item is an online comic about the infamous stain inside the Athens Kirkbride. Darkhorse Comics recently added it to their MySpace profile. It's a little on the spooky side, but it's October, so I'll play along:) It is kind of cool to see a Kirkbride drawn like that too. There should be more Kirkbride buildings in comics I think.
And finally, there will be a presentation tonight (10/17) at Ohio University's Ping Center about the history of Athens State Hospital: Halloween Program to Shed Light on The Ridges' History. In spite of the Halloween link, the presentation is meant to "dispel some of the not-so-respectful myths" about the hospital. It's probably worth attending if you're in the Athens area.
Similar Posts: