Wednesday, July 14th, 2010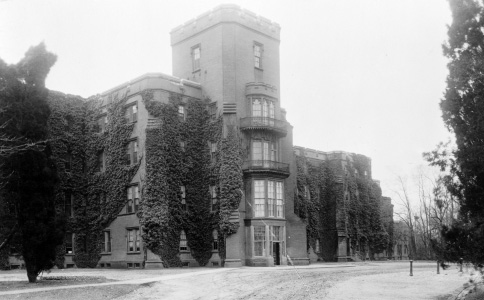 Lightning is the suspected source of a fire causing "substantial damage" to the Saint Elizabeths Kirkbride building in Washington DC. You can read about it here: Fire Breaks Out at St. E's. Another source confirms it: Old SE D.C. Hospital Complex Catches Fire.
I don't know much about this yet, but I'll post more information as I find it. If anyone has anything to share about this please comment. Even if a lot of damage was done, I think there's a good chance the government will restore the building since it's going to be part of the new DHS headquarters. Let's hope so anyway.
Update: There are photos and some video about this available here: Firefighters Respond to Two Alarm Fire at Saint Elizabeths Hospital. The photos show a pretty limited fire on the roof of the admin tower. Judging from those I'd say the fire wasn't too bad and was probably contained and controlled by the firefighters before too much damage could be done. We'll have to wait till more information comes in to be sure.
Here's a message from the General Services Administration: "As has been widely reported, the cause of the fire is thought to be lightning. The fire was contained to the roof and level 5 directly below the roof which was approximately 24 feet by 25 feet, with minimal subsequent water damage. Emergency response was swift and effective. The building has been assessed for emergency stabilization and repairs, and weatherization measures have begun. This incident will not impact the ongoing design development for the rehabilitation and reuse of the Center Building."