Dr. Thomas Story Kirkbride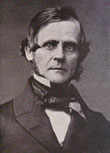 Thomas Story Kirkbride was born July 31, 1809 to Quaker parents in rural Pennsylvania. After his formal education at University of Pennsylvania Medical School (1828 - 1832), Kirkbride originally sought to become a surgeon. However, in 1840 an offer to become superintendent of the newly established Pennsylvania Hospital for the Insane was presented to him, and he accepted. His training and experience interning at Friends' Asylum and at Philadelphia's Pennsylvania Hospital provided him with the necessary background for the position. His ambition, intellect, and strong sense of purpose enabled him to use that position to become one of the most prominent authorities on mental health care in the latter half of the nineteenth century.
Kirkbride was a founding member of the Association of Medical Superintendents of American Institutions for the Insane (AMSAII) —forerunner of the American Psychiatric Association—serving first as secretary, then later as president. Through this association and in his writings, Kirkbride promoted a standardized method of asylum construction and mental health treatment, popularly known as the Kirkbride Plan, which significantly influenced the entire American asylum community during his lifetime.
Similar to the asylums so closely associated with his name, Kirkbride aroused strong feelings in others, ranging from profound hostility to deep admiration. Respected and venerated for his accomplishments by his peers, Kirkbride was also reviled by a younger generation of doctors who viewed his extensive influence and stubborn devotion to his beliefs as obstacles to progress in psychiatric medicine. With his patients, Kirkbride aroused enough animosity in one to inspire attempted murder (which Kirkbride narrowly escaped). More often he acquired the admiration, respect, and affection of those he treated. In an extreme example, Dr. Kirkbride actually married a former patient after his first wife passed away. This marriage revealed the depth of Kirkbride's belief that the mentally ill are human beings with much to offer, though suffering from an illness that can be treated and possibly cured.
On December 16th, 1883 Dr. Kirkbride died of pneumonia at the age of 74. He was at his home on the grounds of the Pennsylvania Hospital for the Insane.
Portraits of Dr. Kirkbride