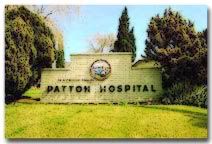 Hospital VisionPatton State Hospital's vision is to lead in the Recovery of individuals in need of psychiatric care.
Hospital Philosophy
We believe that by providing a secure and therapeutic environment, within the context of a Recovery focused biopsychosocial rehabilitation model, we will maximize our individuals' potential to live as independently as possible and minimize the disruption of their lives and the lives of others impacted by their illness.
We believe that the process of providing expert clinical evaluation and treatment for the mentally ill individual takes place most effectively in an environment which fosters innovation, creative problem-solving, mutual respect, and a dynamic, therapeutic milieu characterized by collaboration between the staff, the individuals we serve, and the community. We foster this collaboration through communication based upon understanding of customer-supplier relationships, resulting in responsive work processes.
As a forensic psychiatric facility whose mission is vitally linked to public policy and community concerns, we believe that our individuals are best served in an environment which balances each individual's treatment needs with security. All members of the Patton State Hospital community are personally responsible for the safety and security of the hospital environment. To maintain security, we provide the structure, support, validation and interactions, which promote self-responsibility, well being, and health.
It is our philosophy to promote positive public relations and encourage employee and Individual served participation in educating the public regarding mental health issues and the role of Patton State Hospital.
http://www.dmh.ca.gov/Services_and_Prog ... efault.asp