February 4th, 2012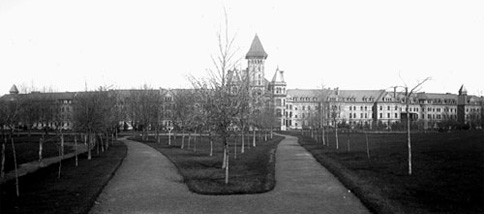 According to the Fergus Falls Journal, only one proposal for reuse of the Fergus Falls Kirkbride was submitted in time for the deadline on Wednesday: Only One RTC Proposal Submitted. That's a little disappointing, but we Kirkbride enthusiasts eat disappointment for breakfast, right? I wouldnt get too upset just yet.
The proposal was submitted by Minneapolis-based Geitso Export Management. The company wants to transform the Kirkbride into what it's calling The Global XChange Village—using the building for a mix of business, education, retail, and the arts, including an "international boarding school." The article also suggests that other developers who had planned to but didn't submit their own proposals may end consolidating their projects within Geitso's plan. Details of the plan are to be released in mid-February.
In somewhat related news, the Otter Tail County Historical Museum will be hosting an open house this Friday, February 10th from 4:00-7:00PM, unveiling the new exhibition "The State Welcomes: Minnesota's Third State Hospital. See State Hospital Exhibit Opens at Museum for more details.
Similar Posts: