July 10th, 2012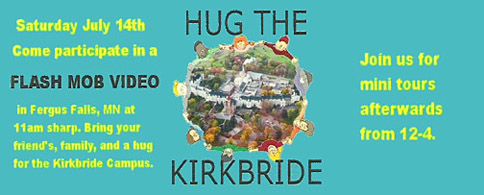 A flash mob is being planned for 11am this Saturday, July 14th at the Fergus Falls Kirkbride. Hug the Kirkbride will involve a human chain linking arms around the entire building. A video of the event will be distributed online with the hopes of garnering national attention for the threatened Kirkbride.
If you live within reasonable driving distance of Fergus Falls — or if you can afford to spend the time and money to make a longer trip — please attend and participate! They're going to need A LOT of people to completely surround such a huge structure.
After the flash mob event, "mini tours" of the building will be given between noon and 4:00PM. For more information, check out the Facebook event page: Hug the Kirkbride. And don't forget to join the Friends of the Kirkbride Facebook group if you haven't already.