February 28th, 2013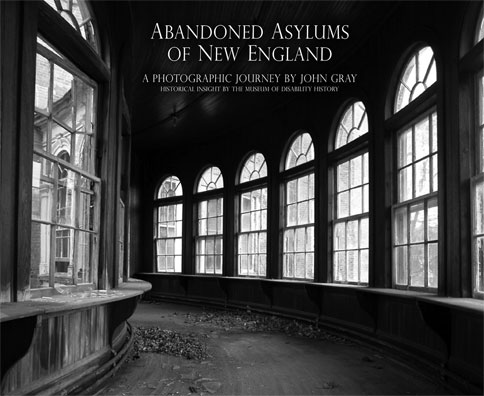 John Gray is publishing a new edition of his Abandoned Asylums of New England photography book. The original version was self-published and came out a little over ten years ago. This new hardcover version is 220 pages and includes lots more high-quality photos in both black and white and color. It's being published in connection with the Museum of disABILITY History who provides the text. From the publisher:
"Abandoned Asylums of New England offers the work of photographer John Gray, who has captured the final throes of the once majestic monuments of medical treatment. This photographic journey into the world of urban exploration documents the state of some of New England's storied temples of control, treatment, and rehabilitation of individuals with disabling conditions. The Museum of disABILITY History provides a historical context for these asylums that heightens the degree of entropy into which these feats of architectural grandeur have fallen. From the gigantic Kirkbride campuses to the airy tuberculosis hospitals, Gray's photography reveals through its compositions the poignant echoes of the lives lived, and sometimes lost, at these disappearing asylums."
Abandoned Asylums of New England should eventually be available for purchase on the museum's website, but to order a copy right now, you have to send an email to PeopleInkPress@people-inc.org. And to keep up-to-date with news about the book, like the Abandoned Asylums of New England Facebook page.